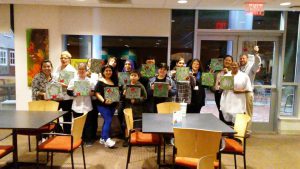 Hi! We are glad you are here!
We are celebrating our first full year and want to say THANK YOU everyone who has painted with us! We have loved meeting each of you and enjoyed your unique and wonderful creations. Anna and I look forward to another year of beautiful artwork and crafts to make with you. Look out for our 2020 calendar of events including more studio time at the Creative Crafts studio, wreath classes, gold foil and palette knife designs, 3D and texture paints, alcohol inks, scarf designing and our popular black light surprises! Thank you again and see you in 2020!
Creative Crafts is a mobile arts and crafts studio, where we bring the party to you! We provide everything you need to create beautiful projects with easy step by step instructions. Our classes are taught by trained instructors who will assist you in making something beautiful! Creative crafts is perfect for girls night out, office events, fundraisers, church events, and we really love birthdays!