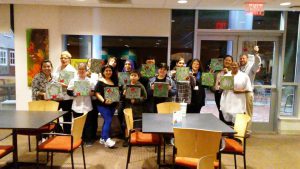 Hi! We are glad you are here!
Creative Crafts is a mobile arts and crafts studio, where we bring the party to you! We provide everything you need to create beautiful projects with easy step by step instructions. Our classes are taught by trained instructors who will assist you in making something beautiful! Creative Crafts is perfect for girls night out, office events, fundraisers, church events, and we really love birthdays!
Amy Zwirko, our head Artist, enjoys every aspect of working at Creative Crafts. She patiently walks you through the process step- by- step,so that you get a beautiful result!