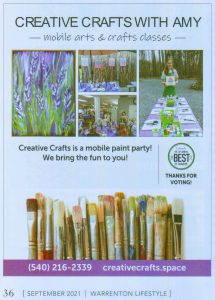 Thank you for voting for us!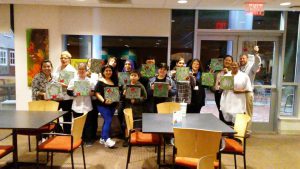 Hi! We're glad you are here!
Creative Crafts is a mobile arts and crafts studio, where we bring the party to you! We provide everything you need to create beautiful projects with easy step by step instructions. Our classes are taught by trained instructors who will assist you in making something beautiful! Creative Crafts is perfect for girls night out, office events, fundraisers, church events, and we really love birthdays!
Amy Zwirko, our head Artist, enjoys every aspect of working at Creative Crafts. She patiently walks you through the process step- by- step, so that you get a beautiful result! 
About Amy
Amy  has been a lifelong artist, from drawing on walls as a child, to obtaining a degree in Fine Art. Amy began her art business, Creative Crafts, in 2017.She since has painted with hundreds of happy painters in the Northern Virginia area. Many that had never picked up a paint brush in their lives! 
Amy's art classes are created to be easy enough for even the most Novice artist! She keeps her classes light and fun and allows for lots of individual creativity. Working with seniors, kids, and adults, she finds that music, jokes, and silliness are some of the best parts of her classes! It helps to keep the class light and everyone has a great time! 
Amy draws her inspiration from bucolic rural scenes of rustic barns, rolling landscapes and bright garden florals.  
Amy has illustrated for local author, James Brown, in some amazing Christmas themed books and has a few more of her own in the works!  Amy also enjoys Plein Air painting when the weather is nice and can be found a local art shows and craft fairs. Amy also does wall murals, live wedding  and event painting and more!
Amy has lived in the Warrenton area for over 20 years with her husband Andy, daughter Anna and a small flock of rowdy chickens. 
Art is definitely Amy's passion! She looks forward to meeting new people in her classes and encouraging them to find their own inner artist. 
Register for one of Amy's classes, found on the calendar, or book a private paint party or fundraiser today!