Have your next birthday with us!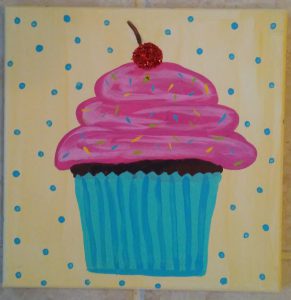 We will bring the party to YOU! Just set up your space, provided your snacks and decorations, and we will bring all the supplies needed for your guests to create beautiful works of art. Choose from our online gallery and let us know which single design you would like.
Adults are $20-30 per person
Kids are $10-20 per child (up to age 12)- Please choose design from the Kids' Gallery
There is a 10 painter minimum
There is a $45 charge for areas outside of our 15 mile radius.
Call us at (540)216-2339 or email us at amy@creativecrafts.space to book your party!
"Having a mid to late June birthday can be tough on school age kids…Fathers day, graduations, recitals and summer vacations make it nearly impossible to celebrate with school friends, so this year I put together a last minute "7year 11month" birthday party for Alyssa and she had the best time celebrating with some of her classmates and close friends. We highly recommend Creative Crafts with Amy. The girls had the best time painting unicorns on canvas with Ms. Amy. We can't say enough about her.
Happy birthday part 1 for my sweet girl. Party time with family to be continued in June for her actually birthday. ❤"
Amy recently came to our home for a "Unicorn Paint Party". I can't begin to tell you how happy we are. I've never seen 15 – 9 year old girls sit so quiet and enjoy an activity so much. The paintings turned out adorable and I loved that everyone got to make their unique. The entire event was very well organized. All supplies were provided and there was no mess! Thanks again Amy! We will be having you back again soon.